Overview
Maxiumiser Desktop is the perfect companion to your reading experience for Medium.com.
Medium.com is a social website that allows you to write great stories, discover new authors, read stories that interest you, and interact with authors.
The more you interact with your audience, the more your audience grows.
Maxiumiser ensures that you find great stories from great authors.
It is the easiest way for you to:
Find new stories,
Find new authors,
Evaluate them, and
Decide whether you wish to continue reading stories from these authors.
What it is not
It is NOT an automated way to
Clap on author's articles,
Comment on author's articles,
Follow authors
How it works
The process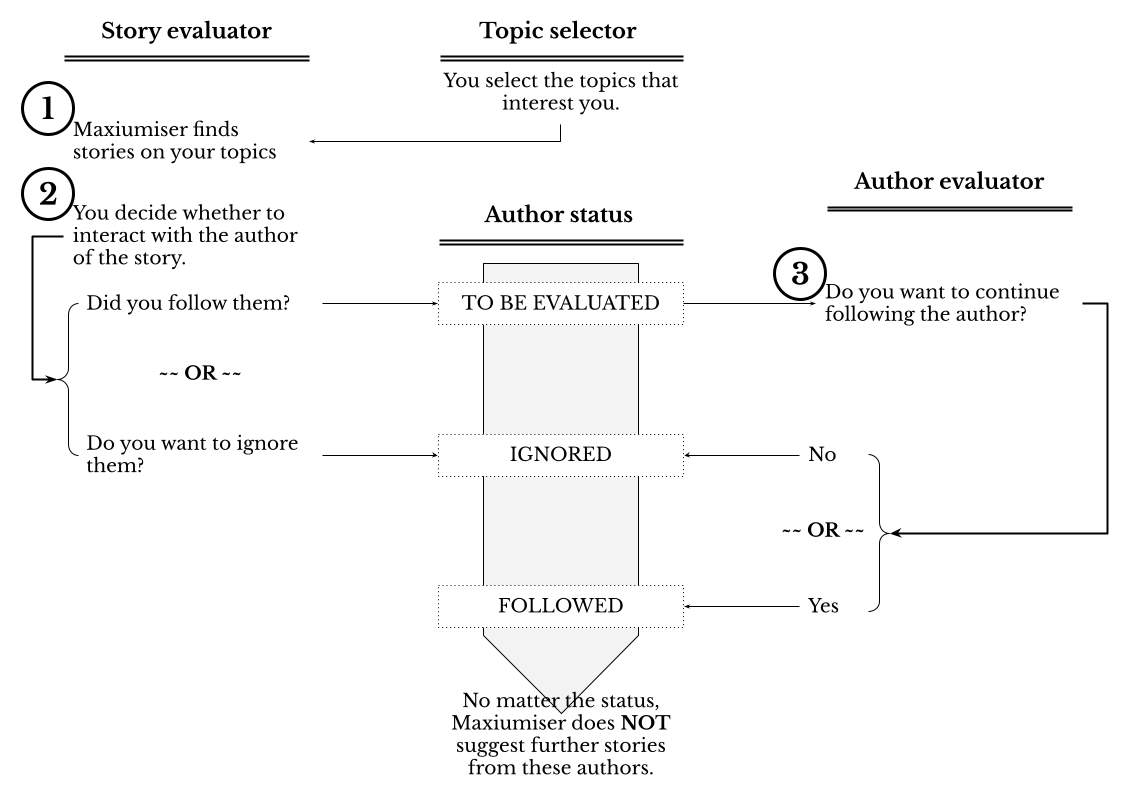 1. Maxiumiser finds stories on your topics
You select the topics that interest you from the list of available topics.
The provided topics have been carefully curated from the list of available topics. All topics have a large number of followers (which means that there is a large pool of readership).
The topics that you select directly relate to the stories that you are shown to be evaluated.
2. You evaluate the story
Maxiumiser searches for new stories from the Medium.com feed - both stories that have just been newly published, and from the Medium.com recommended stories feed.
Maxiumiser then presents you with the list of stories from authors that you have never seen before. You may then evaluate them one by one, seeing the story image, the subject and byline, and the author details.
Should you wish to interact with the story, one click and Maxiumiser will open the story for you in a new browser window. You can then read the story, interact with it (read, clap, comment) and follow the author. Alternatively you can ignore the story and author - and you will never see stories from this author again.
Should you choose to 'follow' the author from the found story - the author is placed in the TO_BE_EVALUATED state.
Should you choose to 'ignore' the author from the found story - the author is placed in the IGNORED state.
3. You evaluate the author
Any author that is in the TO_BE_EVALUATED state can be evaluated at a later date (this can be set in 'Settings' tab of the application).
At this stage you can decide whether to continue to follow the author, thus putting the author in the FOLLOWED state, or ignore the author by setting them to IGNORED.
No matter what state the author is placed in, Maxiumiser will not suggest any more stories from this author (unless you want to - which is an option in the 'Settings' tab).
Next steps
// ... .-.. //